Company Profile
We present positive and sustainable production technologies for world.
EFFE Endüstri Otomasyon A.S., has been offering sustainable innovative solutions since 2008 in order to provide high value-added goods and services for Textile Finishing Industry and to minimize production costs.
EFFE Endüstri Otomasyon A.S., with its technological and user-friendly solutions developed for end-user customers as well as other domestic and foreign machinery manufacturers, it has become an important OEM solution partner for Turkey's and the World's leading machinery manufacturers.
Each of the units and equipment that is the subject of production can be used as separate solutions, as well as as improvement, development and modification applications on different machines. Especially thanks to the modification applications of Stenter, Drying, Compacting and Traditional and Digital Printing machines; It is ensured that production and quality are increased and energy costs are reduced at the same time.
EFFE Endüstri Otomasyon A S., In June 2016, it started its activities in its new and modern production factory in Esenyurt, Istanbul, with the aim of serializing the production of stenter machine and increasing the product variety.
In the 5 years following the presentation of the last generation Pasha series Stenter machine to the textile industry between 2016 and 2021, EFFE brand, one of the leading stenter machine suppliers in Turkey and in the World, added finishing machines such as Loop Steamer, Combi Relax Dryer and Compacting machines to its product range and offered to its customers. It has decided to continue its investments in order to offer finishing machines that also bear the EFFE signature.
In June 2022, EFFE completed its new investment in the second factory located in Velimese, Tekirdag. EFFE, which will continue its production activities in both factories, continues to provide sustainable technology and service for textile industry with Loop Steamer, Relax Dryer, Compacting machines that have just added to its product range, as well as a double capacity increase in the production of Pasha series Stenter Machines.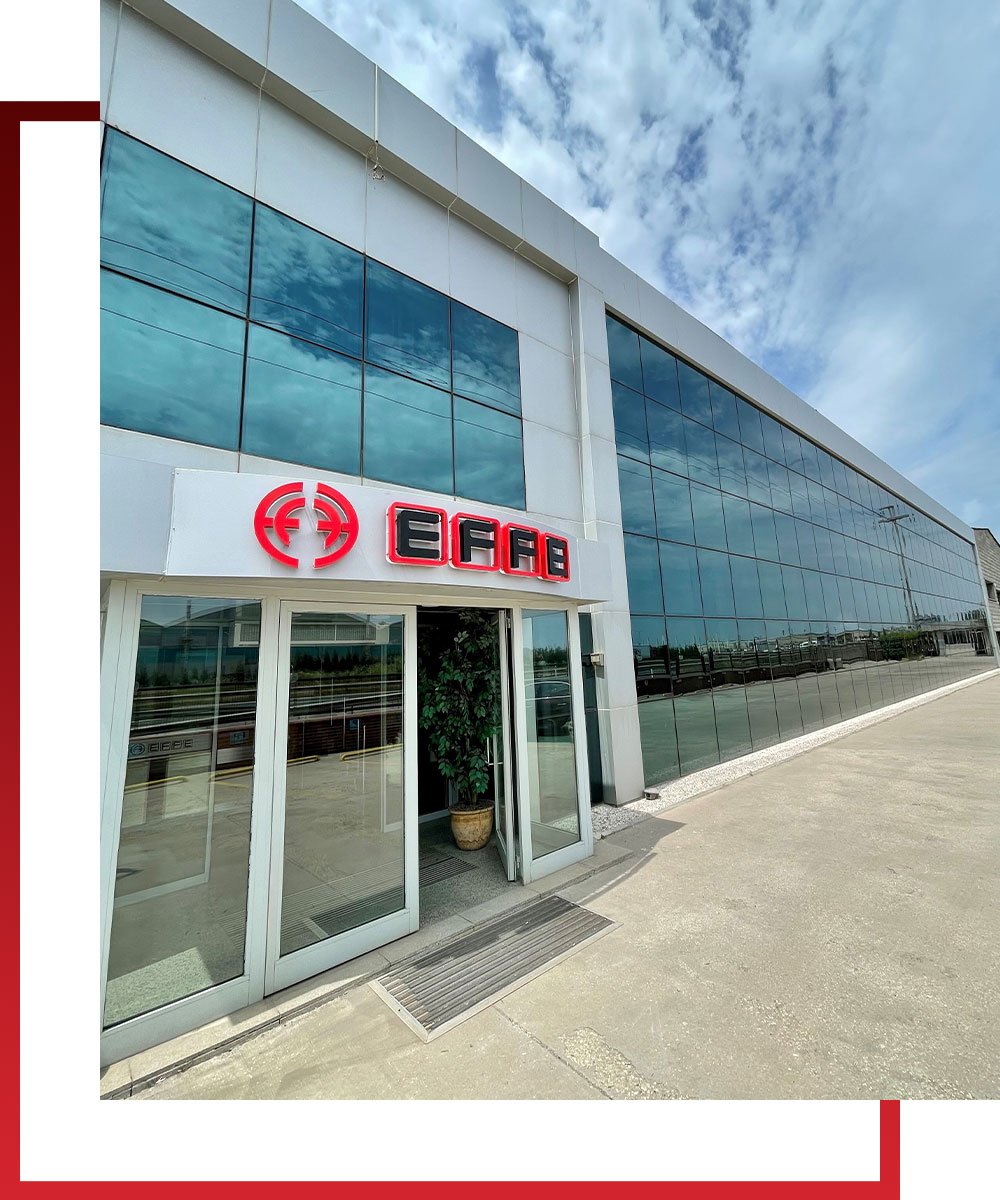 Qualified Production
Effe Quality defines high quality and Effe Production defines the production approach of the future.
High Technology
We do all of our production by using technology efficiently.
Environmental Opinion
As the Effe Family sustainable production is our responsibility.
International Network
We are with you all around the world with our machine sales and service network.
Team Spirit
As EFFE, we know very well that togetherness is our main strength.

▸ Leaving a livable environment for next generations,
▸ To be a brand that directs the sector among both national and international machinery manufacturers.

▸ To maintain our standards of durability, sustainability, quality and productivity in all the machines,
▸ To lead the industry by creating prototypes of the machine's future in our R&D and P&D departments,
▸ To protect the principle of equality, which is the continuation of our corporate culture, with all our team and stakeholders,
▸ Never giving up on our environmental production approach.
INNOVATIVE PRODUCTION FOR TEXTILE INDUSTRY — INNOVATIVE PRODUCTION FOR TEXTILE INDUSTRY — INNOVATIVE PRODUCTION FOR TEXTILE INDUSTRY — INNOVATIVE PRODUCTION FOR TEXTILE INDUSTRY — INNOVATIVE PRODUCTION FOR TEXTILE INDUSTRY — INNOVATIVE PRODUCTION FOR TEXTILE INDUSTRY — INNOVATIVE PRODUCTION FOR TEXTILE INDUSTRY — INNOVATIVE PRODUCTION FOR TEXTILE INDUSTRY — INNOVATIVE PRODUCTION FOR TEXTILE INDUSTRY — INNOVATIVE PRODUCTION FOR TEXTILE INDUSTRY — INNOVATIVE PRODUCTION FOR TEXTILE INDUSTRY — INNOVATIVE PRODUCTION FOR TEXTILE INDUSTRY — INNOVATIVE PRODUCTION FOR TEXTILE INDUSTRY — INNOVATIVE PRODUCTION FOR TEXTILE INDUSTRY